Here's How to Feed Your App Jealousy
This whole story is under the assumption that some developer is jealous with the app success of another guygirl. Jealousy is not the only reason to try to disrupt the success of another appdeveloper – direct competition can also be a "bad" reason to do so.
It all started one day when I saw that Look & Cook daily reviews report arrived to my inbox with something around thirty 5 star reviews. Cool? No. Each review was very short and lacked a personal touch. Of course it looked strange to me. It is not that I don't think Look & Cook does not deserve such daily treatment from its users:) but still my cynical sense got alerted.
Judge it for yourself: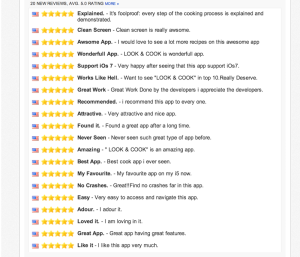 So I checked out with my friends at Look & Cook to see whether someone decided to spend a hundred bucks on buying some good reviews just for fun and of course the answer was no. Look & Cook received naturally very good and authentic reviews from hundreds of users worldwide and we never had the urge to beef it up needless to say on the "lame" quality of such reviews.
So I had to do something about it since I knew deep inside how Apple's fraud detection algorithm can work and spot such anomaly. So I went to their developer portal and it happens that they have a fraud reporting form which I guess was meant for other type of fraud and not for a developer reporting about a fraud on his own app. Anyway, I reported there the incident assuming this at least would be an evidence that I am innocent. Someone could go into an argument that in the dynamics of conflict resolution this could be also a tactic on my end to take the blame off my shoulders. Still that was the only thing I could doat that time.
I got the usual auto reply from Apple that "we got your report and we will take care of this" although I never got until now any human response. At that night our app was probably detected by Apple's algorithm and we got dropped from almost every country ranking where we used to rank high on almost every country on the globe.
This got me sad. Our app climbed on the countries charts not because we bought downloads or something like that. People really like it and use it and tell their friends and it took us a long time to get there.
Still I understood the limitations of an automatic algorithm which decides such things blindly and I waited patiently for someone on Apple's side to read my report.
And then I got this frightening email with the dreadful subject of:
Notification of iOS Developer Program License Agreement (PLA) violation
Let me explain this – for a developer this is a point of crisis. It is like your mam and dad will get a long letter from the school administrator that you cheated on a test while you were the best pupil in the world and never done that in your life.
It was actually even worse.
I will not quote the email body but it had all kind of scary words like fraud and "terms of service" and I think you get it.
So I got myself together and replied harshly, a bit, that I spotted that as well and I actually reported on this and never got an answer. Well, I did not get an answer on this mail too.
Eventually the situation did not escalate and the app is slowly climbing the charts (since users like it of course:) all the way up back again. Also I am not getting anymore scary machine mails about me being a crook or something like that.
And now to the hypothesis on how this happened. If you'l google for "buy reviews" then you will notice that there is a whole industry behind it. You can buy reviews by the meter, quality, language and target store. So the most obvious line of thought I had, in my conspires mind I have to admit, was that someone who doesn't like us/our success/our app/food in general decided to spend a hundred bucks to buy some good reviews. But then my "trusting" side thought that it is probably a mistake and some 20 cents an hour worker just got the whole iTunes link wrong.
So to the conclusions:
To Me – Stop bragging too much about the app's success. No can do – I enjoy that.
To My Close Friends @ Look & Cook – Sorry for being suspicious:)
To The One Whom Did it By Mistake – Please pay attention next time.
To The One Whom Did it By Intention – The Good Guys Rule!!!
To Apple Developer Support – Please reply in a humanly voice to the developers' scared emails, someone can get a heart attack and the liability will be on you.
To Apple's Anomaly Detection Algorithm Developer – Why can't you attribute some credit to an app based on its good history so such anomalies will not put it immediately in the same category of apps like "playing chess with one finger in my nose".
Now I feel better:)